Since one could see the contours, it was considered a fact that there are painted motives under the brown oil paint on the inserts of the benches and balconies of the Reformed Church in Magyarós. In the lack of a professional and sufficient funding, the motives of the inserts were not restored. The ice broke this year, since as the new resident of the village, restorer and painter Ferenc Sánta had the experience and skills to undertake the project. On behalf of the Reformed Church of Magyarós, Pastor Botond Deák applied for a grant to the Covasna County Council, and the long awaited restoration project began.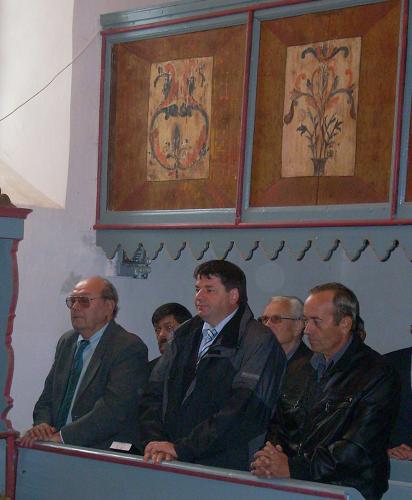 Ferencz Sánta, who returned home from Budapest, coordinated lots of restorations. He restored masonry and paintings on the Museum of Fine Arts, Széchenyi Spa, the Basilica of Saint Stephen and the Synagogue of Győr, of which all are part of the World Heritage. As it was revealed, the church was finished in 1758 and the painted motives, together with the lead framed widows, were painted in 1797.
The ceremony in the Church was lead by Pastor Botond Deák. The standard of the celebration was raised by the performance of actress Zenóbia Zórkóczy. The ceremony was attended by Dr. Ráduly István and the residents of the village and with other guests. After the ceremony there was a reception hosted by the villagers and restorer Ferenc Sánta invited the guests for a dinner.